n August 2004, we welcomed the arrival of the very first Desertstar litter!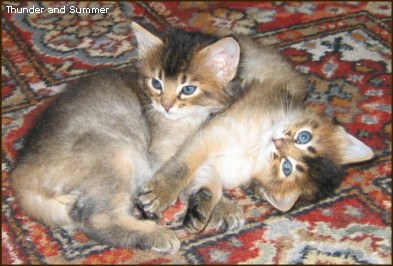 After mating with Ch. Admilsh Astrokini Nexus earlier this year, Ch. Astrokini Narya gave birth to one usual female, Summer, and one usual male, Thunder, on August 18th 2004.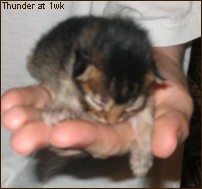 It was a birth we're not likely to forget -- for, as well as it being our very first litter here at Desertstar, Narya went into labour during a very loud summertime thunderstorm! The first kitten to be born was a little girl (weighing 96g), followed an hour later by a little boy (weighing 92g). Both kittens were usual in colour, just like their mother. Sadly, some seven or so hours later, a third kitten (another usual girl, though much, much smaller) was stillborn.
It was touch and go for the little boy kitten for the next few days, as he seemed to have some trouble locating Narya's teats and therefore wasn't eating as much as his big sister. His weight dropped dramatically, and we started to supplement Narya's milk with hand-feeds. Happily, though, after the first 72 hours, he picked up a bit and was soon suckling on his own from his mother.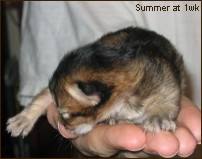 We were soon able to differentiate between the two kittens; the little girl was so much lighter in colour than her brother. So she was named Desertstar Summer Bronze, and he became Desertstar Dark Thunder -- or Summer and Thunder for short. Heather posthumously named the little lost girl as Grace (short for Desertstar Fullofgrace).
Summer and Thunder grew quickly, each developing very unique personalities. Summer was always the mischief-maker; she was first into everything and most often leapt in without looking first. Thunder was more cautious, preferring to let his sister do the exploring before coming out to investigate things for himself. You could guarantee that, nine times out of ten, the resulting mess or commotion was instigated by Summer.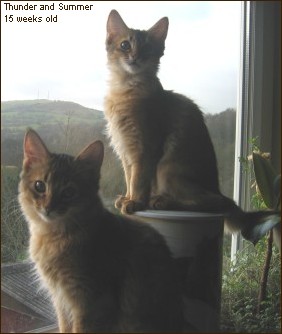 After a while, Thunder overtook Summer in size and really began putting on the pounds. Pretty soon we could tell them apart purely by their size -- by the time he was 15 weeks old, Thunder was huge compared to his dainty sister, and sometimes we had trouble telling Thunder and his mother, Narya, apart!
In December 2004, Summer and Thunder left us for their new home in London with Genevieve and John, a lovely couple who wanted a pair of kittens after their previous Somali, Tawa, passed away after many years of love and companionship. We at Desertstar are thrilled that they found a connection with Summer and Thunder, and are so happy that our first kittens will be spending the rest of their lives together with such a lovely couple.
Thanks to Genevieve and John, we are able to share pictures of Summer and Thunder as they grow up in their new home. Here are some photographs from January 2005: