esertstar Somali's second Somali is the blue-silver girl, Crystal.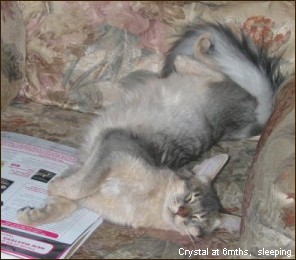 Solentsea Crystal (2004 - )
Blue Silver Somali (63cs)
View Crystal's Pedigree
Solentsea Crystal -- aka Crystal Tipps, Madam Mim, or the cat with a thousand names -- was born in March 2004, and came to live with us in June of the same year. She is a blue-silver Somali and was bred by Marty Underwood of Solentsea Somalis.
Crystal's parents are Asawni Kalamazoo ("Kracker"), a beautiful big blue-silver boy, and Adtresh Quintessence ("Tess"), a fawn Somali varient (meaning she has a shorter coat). Both Kracker and Tess live with Marty on the Isle of Wight.
Crystal is a little minx, and is definitely the troublemaker in the household. While she doesn't bully Narya or Fern, she does insist on making the most noise and the most mess. As such, Crystal is called a variety of names, which have in the past included Squigelet, Alien Kitty, Terror, Minx and so on. It just depends on what we can think of at the time! *smiles*
Like Narya, Crystal is very vocal, and both often hold entire conversations with both ourselves and our visitors and friends. Crystal also has the loudest purr in the household, evident when she is close by to someone, or when she's getting cuddles. She's a real attention-seeker! Her favourite toys are scrunched up pieces of paper and catnip-scented cloth mice.
Crystal's Show Career
Crystal attended her first show, the Somali Cat Club Show, in March 2005. She came Second in her Open Class and combinations of Seconds and Thirds in her side classes. Click here for a full report from the Show. In April 2005, she came First in her open class at the Semi Long Hair Cat Association Show.
Crystal's Gallery
Periodically we'll be adding photographs of Crystal as she grows up as a member of the Desertstar Family. Here are some pictures of her.